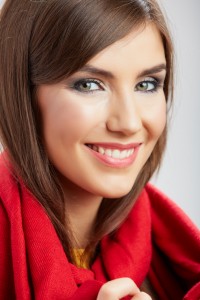 Modern dentistry has allowed more smiles to remain healthy and whole for longer than ever before. With a good handle on most of the issues that can affect your oral health, dentistry can now focus on your smile's appearance with as much fervor as it does your smile's health and foundation. In a culture that highly values appearances and impressions, your level of confidence in your smile can have a real and tangible effect on your quality of life. With extensive experience in general and cosmetic oral health care, Lafayette cosmetic dentist, Dr. Michael Young, explores the innovation of porcelain veneers, and why they're an essential tool in the success of many smile makeover cases.
Accomplish More with Less Risk to Healthy Teeth
Your teeth don't provide much landscape to work with when treating dental issues; the minute surface area of your chompers means any treatment must be precise, and designed to disturb as little tooth structure as possible. If you only have one or two teeth that are cosmetically blemished, say with a stain or an unsightly chip, then addressing the blemish(es) is fairly simple. When you have several teeth to address, especially with different kinds of imperfections, then the task of perfecting your smile can seem a bit more intimidating.  
The purpose of a smile makeover is to completely revamp your teeth, gums, and smile's foundation to create the smile you've always wanted. To accomplish this with minimal manipulation of your oral tissues, Dr. Young may recommend using porcelain veneers. Crafted from durable, discrete dental porcelain, veneers are wafer-thin shells that are bonded to the front surfaces of imperfect teeth. Because they cover your teeth's fronts, porcelain veneers can effectively and simultaneously treat issues like severe stains, chips, odd spaces, minor misalignment, and small teeth, among many others.
Porcelain Veneers & More with Your Lafayette Cosmetic Dentist
If you live in the 70508 area and would like to learn more about giving your smile a makeover with porcelain veneers, schedule an appointment with your Lafayette cosmetic dentist by calling Dr. Young at (337) 237-6453. Located in the 70508 area, we proudly serve patients from Lafayette and all surrounding communities.