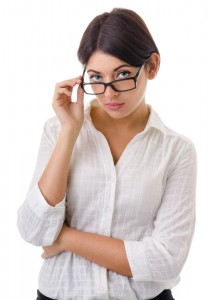 If you wore braces as a child, you may remember certain stigmas commonly associated with the orthodontic treatment, such as embarrassing situations while eating or brushing your teeth. If you didn't wear them, then you may remember seeing classmates with them and being thankful for not needing the metal mouth-ware.  You would also probably not welcome the idea of wearing metal braces as an adult, especially if the goal is to increase your confidence in your smile. However, what if your braces were clear, and you were able to straighten your smile without announcing your orthodontic treatment to everyone around you? With your Lafayette dentist, Dr. Michael Young, you don't have to imagine—we offer a choice of popular, proven clear braces (Invisalign and ClearCorrect) that help you feel more confident about straightening your smile.
Metal Braces vs. Clear Aligners
Traditional orthodontic treatment involves attaching metal brackets to your teeth and gently forcing them into their desired positions by applying tension through connective wires. The treatment is highly effective, and when completed, the results are typically nothing short of amazing. If your concerns are cosmetic, however, you may prefer not to undergo the two years or more that traditional metal braces often require. By contrast, clear braces involve a series of aligners that progressively reposition your teeth as you change them. Whether you prefer Invisalign or ClearCorrect, your clear, removable aligners offer a variety of advantages of their metal counterparts, including (but not limited to);
Discretion—your clear acrylic aligners will be virtually undetectable, like you're not even wearing braces.
Comfortable—no metal brackets and wires means no uncomfortable poking and scratching.
Easy care and maintenance—removable aligners allow you to eat and brush your teeth as easily as before your treatment.
Clear Braces for Adults with Your Lafayette Dentist
If you live in the 70508 area and would like to learn more about discretely straightening your smile with ClearCorrect or Invisalign clear braces, then schedule an appointment with your Lafayette cosmetic dentist by calling Dr. Young at (337) 237-6453. Located in the 70508 area, we proudly serve patients from Lafayette and all surrounding communities.