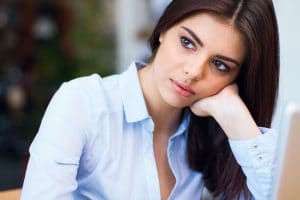 Have you found yourself looking your smile over, and thinking of improvements you would love to see? With the right cosmetic dental procedure, you can make those desired changes into a reality! While many procedures can be performed, many people will find that their needs are fully met with the placement of porcelain veneers. You can have veneers set on your teeth in order to make positive corrections to issues with the color of your teeth, and to address dental damage. Patients have also seen positive changes to the size and spacing of certain teeth. Your dentist can talk to you during a consultation, and see if veneers are the best solution to your cosmetic concerns. In some cases, Lumineers – a thinner variant of traditional porcelain veneers – can be more appropriate.
Having Porcelain Veneers Placed
The placement of porcelain veneers involves some preparation beforehand – your dentist will need to measure your teeth, and prepare them to receive your veneers. There is a waiting period between this preparatory period, and placement, as your veneers are made specially for you. Once they are ready, you will return to your dentist, and have them placed on your teeth. At this point, you can look forward to showing off an improved smile, and have the reassurance that your veneers can stay in great shape for many years!
Exploring Your Other Cosmetic Treatment Options
As versatile and helpful as they are, not every patient will ultimately choose porcelain veneers. You can opt for Lumineers, the slimmer alternative to veneers. If you want to address problems with the color of your teeth, but are not interested in having anything placed on them, you may be happy with a professional teeth whitening procedure.
Dr. Young Can Help You Make Impressive Changes To Your Smile
If you want to make changes to your smile, talk to Dr. Young about porcelain veneers. This cosmetic dental procedure will help you enjoy amazing cosmetic changes, which can give you a newfound confidence. We proudly help patients from Breaux Bridge, Broussard, Scott, Youngsville, and surrounding communities. To learn more, contact us today at our Lafayette, LA, dentist's office at 337-237-6453.