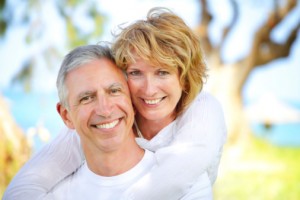 We all know a smile is important for social interaction, showing emotion, and making relationships. However, you may not know about the many other benefits that come along with flashing a big smile. Psychologists and sociologists have been studying the health benefits of smiling for decades, and our Lafayette dentist would like to share some of their findings with you.
How Smiling Improves Your Health
Scientists discovered that the body releases endorphins every time a person smiles. Endorphins are important neurotransmitters that help relieve discomfort and improve your mood. If you're having a crummy day, forcing a smile will lift your spirits. In addition, smiling provides a relaxing effect on the body. People who smile frequently have lower stress levels. Excessive stress wreaks havoc on the body and contributes to a diverse range of health problems.
Smiling Improves Your Professional and Social Life
If you need to diffuse a tense situation at work or at home, a warm, welcoming smile might just do the trick. Smiling puts others at ease. It is also the most common form of non-verbal communication that is reciprocated by others. It's simple! If you smile at others, they will smile back. A smile may even improve your professional life. Did you know that employees who smile often are more likely to receive promotions? Smiles are also perceived as attractive. If you're looking to date, wearing a big smile will show potential suitors that you're welcoming and accepting.
Cosmetic Dentist in Lafayette
If a lack of confidence in your smile is holding you back from these many benefits, consider enhancing your smile with cosmetic dentistry. Dr. Michael Young offers an array of procedures that will improve any smile imperfections. Some of the services we offer include teeth whitening, bonding, and veneers. To schedule a cosmetic consultation, contact our Lafayette dentist office at (337) 237-6453. We serve patients from Lafayette, Louisiana and the neighboring communities.