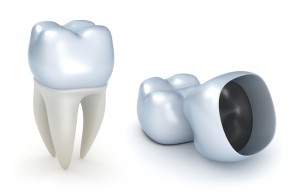 Though your teeth are the strongest part of your body, they're not invulnerable, and unfortunately, they do not repair/regrow themselves when damaged or lost. Luckily, however, innovation and technology has granted us the ability to protect weakened teeth and replace those that have been lost to excessive damage or disease. In the quest for improved dental health, dental crowns are one of the most frequently-used tools in our arsenal. With its simple design and diverse application, a dental crown can be the optimal choice for several different dental situations. Today, your Lafayette dentist, Dr. Young, explores the uses and advantages of today's modern dental crowns to help you determine if a crown is right for you.
When Your Tooth Needs Some Support
When your tooth is cracked or fractured, or if a large amount of tooth structure must be removed due to extreme tooth decay, such as with a root canal procedure, then a dental crown can be placed over the tooth to protect it. Basically an exact replica of the top part of your natural healthy tooth, a dental crown is specially crafted to mimic your natural tooth's color and light-reflecting properties, creating a lifelike reinforcement that blends in perfectly with your smile.
When Your Tooth Needs a Replacement
Dental crowns have been utilized for some time as shields for vulnerable teeth, but with the advent of dental implants, crowns took on an additional benefit—replacing your lost tooth. A dental implant is a prosthetic tooth root that is surgically inserted into your jawbone, which fuses to the implant's biocompatible titanium surface, creating a lifelike prosthetic tooth root. Once healed, the implant can serve as a sturdy base for a porcelain dental crown, and together they form a complete restoration of your tooth's entire root-and-crown structure.
Restore Your Smile with Dental Crowns in Lafayette
If you live in the 70508 area and would like to learn more about the many uses of modern dental crowns, then schedule an appointment with your Lafayette cosmetic dentist by calling Dr. Young at (337) 237-6453. Located in the 70508 area, we proudly serve patients from Lafayette and all surrounding communities.