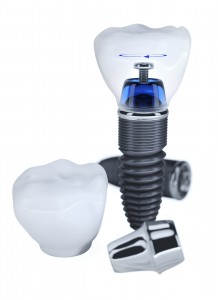 Dental implants have easily become one of the most secure tooth replacement options available today. Yet, while many patients opt for implants and have reported great results, not every patient qualifies for full implants due to insufficient bone mass. Should this apply to you, try asking about mini dental implants (or MDI). An MDI is half the size of a full implant and works best for patients who have suffered with some jaw bone loss.
Dr. Michael J. Young, your Lafayette dentist, shares benefits to mini dental implants with his patients, in this article.
The Perks of Mini Dental Implants
Minimally invasive.

With a traditional

dental implant, the dentist places the implant past the gum line and within the jaw bone. However, an MDI doesn't function in that manner. Instead, an MDI is within the gum line, just above the jaw bone. Without the excess penetration, the implantation procedure is quick; the entire process may take a couple of hours tops.
Additionally, since MDI's take the minimally invasive approach, patients can begin to eat and continue normal activities soon after the procedure has been completed.
Quick procedure.

As aforementioned, a couple of hours after the start of implant procedure and your

Lafayette dentist has finished placing your implants. A full-sized implant requires three steps that could span up-to a year's worth of time.
During the first procedure, the dentist places the implant and waits until patient has completely healed, which could take up-to six months. Then, the second portion is implanted and the patient is allotted another healing period of up-to six months—an issue MDI patients won't experience.
Faster recovery.

A year's worth of healing periods is quite a bit of time. Thus, anything even a little faster is an improvement. An MDI requires a couple of week's worth of recovery time. Some patients feel comfortable eating and continuing regular activities within few days, though.
Visit Your Lafayette Dentist for Implant Dentistry
For more information about mini dental implants, ask Dr. Young. He can explain the implant procedure and answer any questions you may have. To schedule an appointment with our Lafayette dental practice, call us at (337) 237-6453. Also, visit our website for services, patient information, and to learn more about our team. We happily welcome patients from Pilette, Walroy, Long Bridge, Scott, Broadmoor, and neighboring cities.