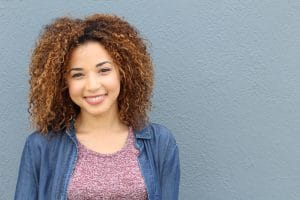 The right cosmetic dental procedure can be of great value to someone who feels that they have certain teeth that seem to be the wrong shape or size. This problem can be particularly frustrating because it can occur naturally, and not as the result of an oral health issue or dental injury. You can be happy to know that your Lafayette, LA dentist is prepared to help you make changes to teeth that appear too large, too small, or misshapen in some other way. There are several procedures that may be able to help you. What you might realize is that the right solution is less about working on your teeth, and more about addressing issues with your periodontal tissues.
Identifying The Right Solution To Your Smile Concerns
Because smiles vary, and people have different goals when they seek cosmetic work, the treatments your dentist can offer varies as well. You can discuss cosmetic work that does not require the placement of restorations, or work that will see permanent restorations put in place. With a dental bonding and contouring treatment, enamel can be carefully removed, to bring down the size of a tooth, or to make it appear less jagged. This process can also involve the application of a resin material to hide damages, improve the color of a tooth, and reshape the tooth. A plan to improve your smile with porcelain veneers will see custom veneers made from measurements of your teeth. Once your veneers are ready, they are carefully affixed so that they hide any flaws that might have bothered you.
Making Careful Changes To Your Tooth Structure To Improve Your Smile
The goal during any cosmetic procedure is to preserve as much of your healthy tooth structure as possible. The contouring done during bonding and contouring work will not affect a tooth's ability to bite and chew. Veneers are remarkably slim, so only a minimal amount of your tooth structure must be removed to make space for them.
How A Gum Contouring Treatment Adds Length To Seemingly Short Teeth
Teeth that look too short, or seem squat, can actually be affected by bulky, excessive periodontal tissues. Your dentist can recommend a gum contouring procedure in this situation – rather than working on your teeth, they will carefully remove gum tissues. This can make your teeth appear longer, and give your smile a more uniform look.
Dr. Young Can Help You Show Off Quality Smile Improvements!
Dr. Young is ready to help Lafayette, LA residents enjoy terrific smile changes! Our practice is proud to offer several cosmetic procedures that can correct the issues you have with your appearance, while allowing you to retain a natural-looking smile. If you are ready to learn more, contact us today at our Lafayette, LA, dentist's office at 337-237-6453.