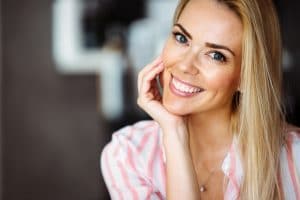 For a big change to happen with your smile, you would obviously need to do significant work on your teeth…right? You can actually be surprised at just how remarkable your smile improvements are when you have porcelain veneers placed. Your Lafayette, LA dentist can provide these slim restorations for your smile after minimal work to make room for them on the front of your teeth. Once placed, custom veneers are effective at hiding problems with the shape, size, condition, and even the color of your teeth! Once this procedure is complete, you can be amazed at the quality improvements you see!
A Minimal Change To Your Tooth Structure Can Lead To Remarkable Changes
Yes, veneers are durable, but that does not mean they are bulky, or an awkward presence on your teeth. Typically, these cosmetic restorations are slimmer than 0.5 mm, so little work is needed to make space for them. After carefully removing just enough enamel to make room for your custom veneers, and affixing them to your teeth, your dentist can send you away with a wonderful smile!
What To Expect As Your Veneers Are Planned And Placed
To look their best, porcelain veneers need to be an exact fit. Because of this, careful measurements of your teeth are required. After this occurs, and preparatory work on your teeth is completed, your next step will be to schedule the placement of your veneers once they are constructed. Once they have been set on the front of your teeth, your veneers can be counted on to remain firmly in place for many years, where they can continue to allow you to show off an improved smile!
Is A Cosmetic Procedure Always The Right Solution For Dental Flaws?
Before committing to providing corrections with veneers, your dentist will check on the condition of your teeth. This step is an important one, as the health of your teeth should be reviewed before moving forward with a cosmetic dental procedure. In some cases, it will be discovered that a patient might need more than just esthetic work. If you have teeth that are affected by decay, or damaged to the point of needing more support, a dental crown can provide improvements to your oral health, as well as the way you look!
Talk To Dr. Young About Improving Your Smile With Veneers!
Michael J. Young, DDS is prepared to help people in and around Lafayette, LA enjoy fantastic smile care! When you receive porcelain veneers, you can be delighted at how much your smile has improved. Our practice proudly delivers a range of quality restorative, cosmetic, and preventive treatments. To learn more about what we can do for you, contact us today at our Lafayette, LA, dentist's office at 337-237-6453.