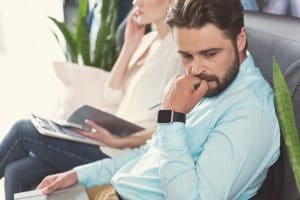 Millions of Americans get anxious just thinking about visiting the dentist. Some of those people have such a high level of fear and anxiety, they have what is known as odontophobia, an overwhelming fear of dentistry. Whether you have a full-on phobia or just a mild case of the jitters, it is important not to let your anxiety keep you from receiving important dental care. Your dental team in Lafayette, LA is prepared to help ease your nerves and discuss any trepidation you may have. When talking out your nervousness is not enough, distractions and sedation may help you get the care you need to keep your smile healthy. 
Talk It Over
Many people have a fear of going to the dentist that is rooted in a specific reason. Some fears may have grown out of past traumatic experience, while some people may have a fear of potential pain. Some people may get worried that the state of their oral health will cause embarrassment, while some may worry about the expenses. If you know what the specific cause of your dental anxiety is, please feel free to speak up. Talk to your dentist or even the person who checks you in at the front. Everyone in your dental office wants to make sure you have a comfortable, pleasant experience, and they will want to help.
Distract Yourself
Some anxieties do not have a distinguishable root cause. During treatment or even just an exam, you can try some distraction techniques to keep your brain occupied. Counting your breaths can help keep your mind off of your worries.
Sedation May Help
Sedation dentistry may be a good option for people who need it. Sedative options like laughing gas (nitrous oxide) or oral medication can help put you in a state of deep relaxation while keeping you awake and aware. Choosing sedation can be a great way for you to keep your nerves from preventing the oral healthcare necessary for your smile's well-being.
Do you get nervous thinking about a dental visit?
Don't let anxiety or fear keep you from important care. To schedule a consultation, call the office of Michael J. Young, DDS, in Lafayette, LA, today at 337-237-6453. We proudly serve patients from Breaux Bridge, Broussard, Scott, Youngsville, and surrounding communities