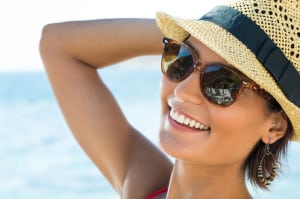 Having a positive outlook in life can bring you a great deal of joy. But what happens when your smile doesn't match that same bright attitude? What if it makes you feel ashamed? Your smile should help show the world how happy you are, but if concerns about your smile are making you frown, your cosmetic dentist can help. Cosmetic dentistry can help give you a smile that more adequately reflects your inner beauty, and one that gives you even more confidence to face the world.
Customizable Treatment
There are many options for cosmetic treatment, all of which can help to enhance your smile. Some options, like professional teeth whitening, are relatively quick and affordable, while others, like veneers, require a bigger investment of both time and money, but can address more comprehensive concerns. Scheduling an appointment with your cosmetic dentist is a great way to determine which treatment is the best option for you, based on the improvements you wish to make, your current oral health, and your budget. The dentist can even customize a treatment plan that combines procedures in order to give you the smile you desire and to correct any imperfections.
Correcting Concerns
Along with whitening and veneers, many dentists offer bonding and contouring, which can help address concerns with teeth's size or shape in as little as an hour. Gum contouring can help create a more symmetrical gum line, and may even improve the appearance of the teeth as well. Finally, Invisalign is an orthodontic treatment designed to save patients the embarrassment and discomfort of traditional metal braces, while achieving the same goal, of straighter teeth.
Your cosmetic dentist can help you determine a course of action, that will lead to a bright smile that will make you proud.