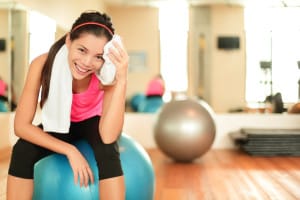 If you have spent the last year doing crunches for your abs, drinking milk for your bones, taking vitamins for your hair, and breaking the bad habit of biting your nails, it's likely you're concerned with feeling and looking your best. Many people take all kinds of steps to achieve healthy and fit bodies, clear skin and strong bones. But what are you doing to take care of your smile? In your quest for perfection, if you've forgotten your smile, it's time to learn how you can take better care of – and beautify – your one and only smile.
Healthier Smiles Are Beautiful Smiles
A beautiful smile is a healthy smile. To take good care of your teeth and gums, you need to brush daily, as well as floss. But regular professional cleanings are also important. Even with excellent at-home care, most patients need the dentist's help in order to maintain healthy smiles. That's because tartar buildup cannot be removed through brushing or flossing, alone, and over time most people develop plaque and tartar.   A professional cleaning can remove it, helping to restore your oral health and protect your smile.
Could Your Teeth Look Even Better?
If you really want your teeth to shine, though, cosmetic dentistry can help. From covering imperfections in your smile, to brightening your teeth by several shades, cosmetic treatment options can help give you the smile of your dreams, often in a relatively short amount of time and with minimal discomfort.
During your next dental checkup, ask your dentist how cosmetic dentistry could help enhance the beauty of your natural smile. You might be surprised how quickly your smile concerns could become a source of confidence!