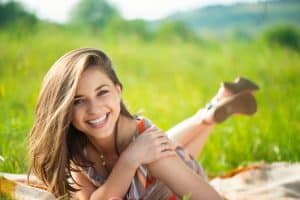 Do you want to feel and look your best when spring finally arrives? If so, don't head to the mall for a new ensemble or accessory. Instead, consider that the best update you could make to your overall look might just be to enhance your smile! Cosmetic dental treatment makes it possible to hide many imperfections and also to reveal more of the smile's natural beauty. So if you want to enjoy spring feeling proud of your pearly whites, now is the perfect time to talk to a cosmetic dentist about a smile makeover.
Don't Settle for Severe Stains
One of the most common esthetic issues that arises, particularly as one ages, is deep staining or discoloration. This can cause a smile to look prematurely aged, and certainly less vibrant and beautiful.
To help address most staining, professional teeth whitening is a great solution, one that can often lighten teeth by several shades in only a few weeks' time.
Address A Wide Variety of Imperfections with Cosmetic Treatment
If you have grown embarrassed by a variety of imperfections, such as extreme wear along the edges of your teeth, minor spaces between your teeth, or disproportionately shaped or sized teeth, it is best to schedule a consultation with your dentist about the many treatment options available to help improve your smile's appearance.
From cosmetic bonding and porcelain veneers, to gum contouring and clear braces, your dentist might recommend a single treatment or even a combination of treatment as part of a complete smile makeover to help enhance the smile's natural beauty, while hiding any noticeable imperfections.