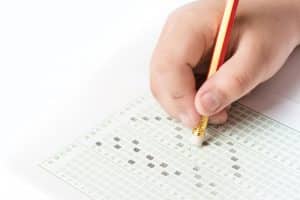 What stands between you and a flawless smile? If you have issues you would like to address, you may be interested in what porcelain veneers can offer. If you are unsure you qualify for veneers, or if they are right for you, you can set a time to discuss them with your dentist. If you are approved, you will need to have two appointments. At the first visit, you will have your teeth prepared, and measurements taken so that your veneers fit your smile. Once your veneers have been made, you will return to have them affixed to your teeth, so they provide an effectively permanent improvement to how you look. With veneers, you can cover a range of problems – discoloration, damage, and even size and spacing issues can be corrected.
Questions:
True Or False: You have to remove your veneers every time you eat, because they are not built to handle biting and chewing pressures.
True Or False: Your veneers will be specially made for you, so they provide an exact fit for your teeth.
True Or False: While a whitening treatment can fail to help in these instances, you may be able to address intrinsic discoloration with porcelain veneers.
Answers:
False! Your veneers are permanently placed on your teeth, and are built to hold up against biting and chewing pressures.
True! By providing a custom fit, you can be sure your veneers fit in a way that does not seem unnatural. The preparatory work you undergo has the additional advantage of making sure your veneers do not protrude in a way that is distracting.
True! Intrinsic discoloration will not be solved through whitening agents, but veneers can be used to cover this type of discoloration.
Talk To Dr. Young About Porcelain Veneers
If you are ready to transform your smile, and feel the confidence boost that comes with your improved appearance, ask Michael J. Young, DDS about porcelain veneers. By having them placed, you cover a variety of different flaws. Dr. Young and his skilled team of dental care professionals are happy to welcome patients and their families from Breaux Bridge, Broussard, Scott, Youngsville, and all other neighboring communities. To learn more, please contact us today at our Lafayette, LA, dentist's office at 337-237-6453.