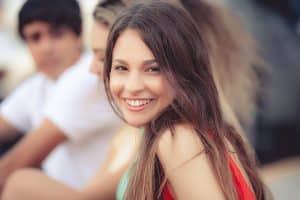 Their size is not much to speak of – but that happens to be the point. Lumineers can make big improvements to your smile, like veneers, but Lumineers are designed to occupy less space than traditional dental veneers. These thin shells can be discreetly fitted onto your teeth, where they can hide a range of frustrating issues. Patients often choose this cosmetic dental treatment because they can improve on a range of different concerns with their appearance. If you have concerns about whether Lumineers, or any cosmetic treatment, is right for you, you can arrange to speak with your dentist, who can examine your teeth, and listen to your goals for your smile.
Understanding What Makes Lumineers And Veneers Different?
Lumineers offer coverage for a range of dental problems. You can address stains, chips or cracks in teeth, and some alignment issues. Lumineers can also help with multiple issues; however, Lumineers are thinner, and are easier to accommodate so that they look natural when placed on your teeth.
Set A Cosmetic Consultation With Your Dentist
A cosmetic consultation with your dentist can help to ensure that you choose the right treatment, and enjoy the results you desire. Many patients, though not all, may be satisfied when they see the results of a professional whitening treatment. Of course, if you are worried about dental damage, or congenital issues, whitening agents can fail to help you. You may be surprised by what you learn at your consultation. In some cases, patients with alignment issues can see their problems corrected by veneers, or treatment with Invisalign or ClearCorrect, which means a straight smile can be available without braces.
Talk To Your Dentist If You Are Interested In The Benefits Of Lumineers
By receiving Lumineers, you can enjoy a terrific smile improvement. You may be surprised at just how much improvement these thin shells can provide once fitted onto your teeth. Your dentist is available if you want to set a cosmetic consultation, and learn what you can do for your smile. To learn more about what Michael J. Young, DDS, and his skilled team of dental care professionals can do for you, contact us today at our Lafayette, LA, dentist's office at 337-237-6453.