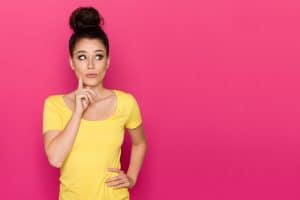 A gap between your teeth can lead to a distraction that hurts an otherwise lovely smile. While you can be self-conscious about a gap caused by poor dental alignment, or an undersized tooth, you may be unsure of how to best address the matter. While orthodontic work can appear to be the best treatment route, you may be able to address the matter by arranging cosmetic dental treatment instead. The right cosmetic treatment may be able to close that smile gap in a relatively short time, so you can see results sooner! Your Lafayette, LA dentist can talk to you about your cosmetic dental treatment options, or let you know if you would be better served by orthodontic care.
Using Cosmetic Dental Work To Hide Problems With Teeth Spacing
By performing cosmetic work to hide a gap, or make a tooth appear larger, your dentist can make a glaring problem with your smile go away while still preserving a natural appearance. Porcelain veneers are often relied on to make these corrections. Your custom restoration can close a gap left by a smaller tooth, or hide a problem with poor dental alignment. Dental bonding and contouring work can also lead to improvements that focus on spacing troubles.
Discussing Orthodontic Treatment With Your Dentist
You can review your options for orthodontic treatment with your dentist if you want to close a smile gap without altering your tooth structure. If you pursue treatment with Invisalign aligners, you can actually correct your smile while relying on a discreet appliance people fail to observe. With these aligners, it becomes possible to make corrections without a visible set of braces, which can make you more comfortable in professional and social settings. You can also enjoy having an appliance that is easy to remove, so that they do not intrude on your daily life.
Making Plans For A Significant Smile Improvement
If you want to make significant changes to your appearance, your dentist can help you take on the challenge of improving your smile, without making it look artificial. Orthodontic work can certainly accomplish meaningful results, as your appearance is improved without any alteration of your teeth. You can also look forward to veneers and bonding treatments that cover up flaws, while expertly blending in with your smile.
Talk To Dr. Young About Closing A Gap In Your Smile
Dr. Young is ready to help people in and around the Lafayette, LA area make smile corrections by closing or hiding a frustrating gap between teeth. If you have a concern about a tooth gap, or any other issue that makes you unhappy with your smile, let us know! To learn more about how we can help you, contact us today at our Lafayette, LA, dentist's office at 337-237-6453.