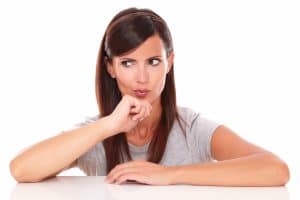 Tooth decay can create some obvious oral health concerns, particularly if complications develop. However, you may also be concerned that a history of cavities will lead to problems for your smile. Fortunately, modern restorative dental care can limit the impact fillings and crowns can have on your appearance. Your dentist will use life-like materials to craft these restorations, so they blend in without issue. That being said, if your dental health is less than ideal, minor problems can lead to your teeth appearing less healthy, or dull. The right cosmetic dental procedure can lead to your smile being remarkably improved.
Modern Restorations Can Offer Life-Like Support For Teeth
If you need treatment for a cavity, your dentist can protect your tooth with a filling or crown. In the past, patients who underwent cavity care would be left with a conspicuous metal restoration. Fortunately, patients now have access to support from fillings and crowns that look natural.
If You Feel Bothered By Your Smile, Set A Time To Discuss Cosmetic Work With Your Dentist
If you think something is wrong with your smile, for any reason, you can certainly discuss what is bothering you with your dentist. Cosmetic dental treatment can lead to an impressive difference in how you look. Your dentist can examine your teeth, pinpoint the flaws that are hindering the quality of your smile, and recommend their preferred approach to treatment. You can be surprised by how much is changed with a single procedure. For example, if you have porcelain veneers placed, you can cover up discoloration, dental damage, and even some alignment problems!
Talk To Dr. Young About Addressing Tooth Decay, And Problems With Your Smile
The right dental treatment can offer valuable support for your smile. Michael J. Young, DDS is able to offer a range of cosmetic services, to address issues with your appearance. Thanks to updates to modern restorative treatment, Dr. Young can provide cavity care that is also beneficial to how you look. Our practice is proud to offer our support to families from Breaux Bridge, Broussard, Scott, Youngsville, and surrounding communities. To learn more, contact us today at our Lafayette, LA, dentist's office at 337-237-6453.