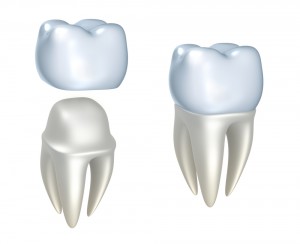 Sometimes you suffer from tooth decay too severe for a dental filling. You may even experience trauma or breakage to your tooth that leaves your tooth in need of protection, coverage, and structural support. In these cases, and some others, we may suggest a dental crown. Wondering how this restorative treatment may improve your smile? Learn more with the following information:
About Crowns
A dental crown is a hollow, artificial tooth that may be crafted out of a variety of materials. The prosthetic fits over your natural tooth permanently. Rest assured, we will take impressions of your teeth, so you receive a custom-fitted crown that fits comfortably and blends with the rest of your smile and bite. While you wait for the permanent crown, you will wear a temporary one. In the meantime, before your follow-up visit, a highly skilled technician will use your impressions to craft a beautiful crown.
The Right Materials
We choose the material for your dental crown based on aesthetics and tooth location. Front teeth are more visible, so we often offer all-porcelain crowns because they provide a natural-looking appearance. However, because they do not lend as much strength as our other options, back teeth that must withstand pressure from chewing may require a metal or PFM (porcelain-fused-to-metal) crown. We also offer zirconia, which gives great durability as well as a natural-looking finish for an aesthetic approach to protecting back teeth.
How Crowns Help
Dental crowns improve your smile in a variety of ways. For a better understanding, consider the potential functions of this prosthetic solution:
We place a crown for a tooth suffering from a large cavity
Crowns cover damaged, fractured, or broken teeth
We may suggest a crown to cover significant cosmetic damage
This option protects your tooth after root canal treatment
ABOUT YOUR LAFAYETTE GENERAL DENTIST:
Michael J. Young, DDS, and his skilled team of dental care professionals happily serve patients and their families, living in Breaux Bridge, Broussard, Scott, Youngsville, and surrounding communities. To learn more, contact us today at our Lafayette dentist's office at 337-237-6453.