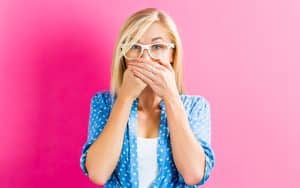 A smile gap that stands out in your smile can be a bothersome presence. If you are self-conscious about the presence of a gap, it can undermine your confidence, and make you less comfortable with how you look. Gaps can be caused by alignment issues, but some patients will have this problem because of size issues with certain teeth. Your dentist can help you determine the ideal solution for your problem, and bring about positive change. There are cosmetic dental treatment options that can help you correct this problem – you may be surprised at how little time it takes to make a positive change!
Making Undersized Teeth Look Larger To Correct Spacing Issues
If you have an undersized tooth that leaves a gap in your smile, cosmetic work can help. Patients will undergo a dental bonding treatment that involves adding the appearance of size to a tooth. By performing this treatment, dentist can send you away with a closed gap in as little as a single appointment! You may also be able to hide the presence of a gap with porcelain veneers.
Clear Braces Can Help With Alignment Issues That Create Unsightly Spaces
If your gap is the result of alignment problems, you may be able to correct the matter with clear braces. Clear braces can discreetly close a gap through the use of several clear plastic aligners. People who use clear braces can feel more comfortable relying on an orthodontic adjustment that does not require the use of noticeable bracket and wire braces.
Talk To Dr. Young To Learn How You Can Address An Unattractive Smile Gap
If you are bothered by the presence of a gap in your smile, set up a time to speak with Michael J. Young, DDS about how you can make real cosmetic improvement. You may be surprised by how effectively – and how quickly – this problem can be remedied! Our office is proud to provide quality dental care to patients from Breaux Bridge, Broussard, Scott, Youngsville, and surrounding communities. To learn more about how we can help you address any oral health needs you may have, contact us today at our Lafayette, LA, dentist's office at 337-237-6453.