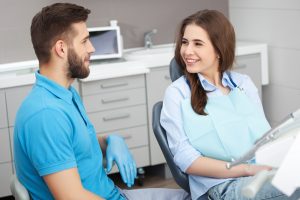 Consulting with your dentist about cosmetic dental care can lead to big improvements to your smile. There are several treatments you can choose from, and your dentist can help you appreciate what approach can be most beneficial. Patients who want to transform their smile by making several changes will often pursue improvement through the placement of veneers, or Lumineers. Once placed, veneers and Lumineers are able to cover up a range of different problems that might be impacting your appearance. Because they are permanently affixed, you can hold on to those changes for many years.
Understanding What Makes Lumineers Different From Veneers
Lumineers, like traditional veneers, are made from porcelain. Lumineers feature a slimmer design, which can mean less work is needed to make space on your teeth for them. Both veneers and Lumineers are able to cover up many different problems with their placement. These problems include discoloration and damages, plus you can benefit from covering a tooth that is too small, or misshapen.
Caring For Your Oral Health After Receiving Cosmetic Care
Your oral health needs are not dramatically altered by undergoing a cosmetic treatment. That being said, if you want your results to last, taking care to protect your appearance is important. One thing to recognize is that veneers cannot be treated with whitening agents; your natural enamel can have stains erased with a whitening treatment, but veneers will suffer permanent discoloration. While the porcelain material used is resistant to stains, dark liquids like coffee, tea, and red wine have the potential to leave them discolored.
Talk To Dr. Young About Improving Your Smile With Veneers Or Lumineers
Are you ready to make big changes to your appearance? Michael J. Young, DDS can discuss your cosmetic treatment options, which include the placement of Lumineers or veneers. With the right cosmetic work, you can see a terrific change to the overall quality of your smile. Our office proudly offers care for patients of all ages from Breaux Bridge, Broussard, Scott, Youngsville, and surrounding communities. To learn more about the services we offer, contact us today at our Lafayette, LA, dentist's office at 337-237-6453.