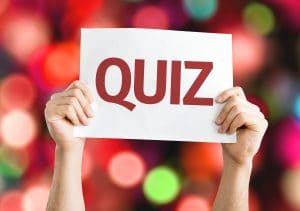 You may be excited by the idea of making big cosmetic dental improvements happen, but that excitement can be mixed with a feeling of intimidation. How long will it take before you see real results? Can your dentist make the changes you are hoping to see? During a consultation, you and your dentist can discuss what you want from treatment, and you can learn more about how cosmetic dentistry can help you. There are several effective measures your dentist can take to help your smile, and you can see a fantastic improvement to your appearance in less time than you might think! Cosmetic improvement is not solely about esthetics – with prosthetic work, you can transform your smile while also improving your oral health.
Questions:
True Or False: Prosthetic dental work supported with dental implants can help you prevent the deterioration of your jawbone, and the development of a "sunken" appearance.
True Or False: Porcelain veneers and Lumineers are capable of improving problems with the condition of your teeth, and they can help improve their color.
True Or False: There is no way fix any cosmetic problems that have to do with your gum tissue.
Answers:
True! By prevention jawbone deterioration, your implants help you avoid a sunken facial appearance, while also keeping the bone healthy.
True! Veneers and Lumineers make unsightly teeth appear flawless by covering up a range of visible flaws. If you have a discolored smile, traditional veneers and Lumineers can be effective. They can often be counted on for help when patients have intrinsic discoloration, which can be relatively unphased by a professional whitening treatment.
False! A gum contouring treatment can help people who have teeth that look small or squat because of excess gum tissue. This can also be useful against uneven periodontal tissue.
Dr. Young Can Provide You With Striking Cosmetic Dental Improvements
If you want to make big changes to your smile, take time to talk to Michael J. Young, DDS about your cosmetic dental options. You may find that big improvements are more attainable than you realize! Our office is proud to work with families from Breaux Bridge, Broussard, Scott, Youngsville, and surrounding communities. To learn more, contact us today at our Lafayette, LA, dentist's office at 337-237-6453.