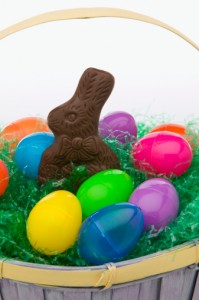 Many children hope to find jelly beans, marshmallow Peeps, and chocolate eggs hidden at the bottom of their Easter baskets. These sweet treats are often sugary and sticky, contributing to tooth decay. Instead of promoting cavities this Easter, Dr. Young offers a few ideas to create healthy Easter baskets.
Tooth-Friendly Easter Treats
Easter baskets and eggs don't have to be filled with candy. These fun goodies will keep kids smiling:
Small toys: Try stuffing your baskets with stickers, erasers, bouncy balls, play-dough, silly string, crayons, stuffed animals, coins, and other small prizes. Be cautious of tiny objects that could cause a choking hazard to young children.
Outdoor fun: Encourage your children to enjoy the spring weather with new outdoor activities. Consider filling baskets with sidewalk chalk, jump ropes, skates, sports equipment, flower seeds, and other recreational hobbies. Don't forget to include a mouthguard to prevent facial injuries!